Dívčí Kámen
---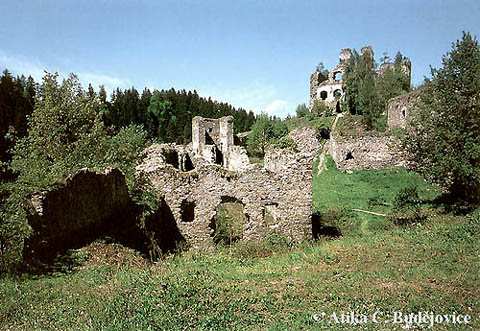 &nbsp&nbsp Dívčí Kámen (13 km from Český Krumlov)

&nbsp&nbsp Dívčí Kámen (meaning Girls' Stone) is one of the few Bohemian castles for which the foundation documents still exist. In 1349 King Charles IV gave permission for its construction to the Rožmberks. The construction began the following year and lasted ten years. The castle was built for military purposes but it was used also as an administrative centre for the surrounding area. In 1394 Dívčí Kámen played a host to none other than King Wenceslas IV who paid a short and involuntary visit here while on his way to Austria as a captive of Jindřich of Rožmberk. At the beginning of the 16th century Peter of Rožmberk decided not to maintain the castle any longer and had all of its furnishings moved to Český Krumlov. Historical documents mention the castle as being in disrepair as early as in 1541.

&nbsp&nbsp It is obvious that Dívčí Kámen was not too significant; its ruins cannot be compared to those of Rabí or Landštejn. It is, however, located within a beautiful setting. Approaching on a stoney path through Křemže river valley - a valley enclosed by steep rock formations and grassy slopes - one is presented with a fascinating view of the now partly overgrown ruins of the castle which once stood in all its glory where the Křemže and Vltava rivers meet. Up on the ramparts, one gets another, no less fabulous view, that of the Vltava river and of the wild, fairy-tale countryside.