Jindřichův Hradec
---

Státní zámek Jindřichův Hradec, 337 01 Jindřichův Hradec
Tel. +420 384 321 279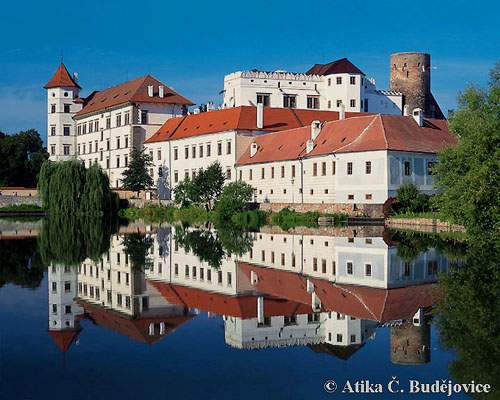 &nbsp&nbsp The castle itself was founded by the branch of the Vítkovec family, the Lords of Hradec whose emblem displays a golden rose in a blue field. The town prospered under the sign of this rose for more than three hundred years until 1604.
&nbsp&nbsp The founder of the branch was Jindřich Vítek, son of Vítek of Prčice. It was he who gave the name to the town. From the beginning, the Lords of Hradec lived in the castle gradually altering it and giving it the appearance of a Renaissance structure.
&nbsp&nbsp The early 15th century Menhart Tower dominates the castle. One of its halls features an allegorical wall painting titled The Parliament of Birds. There is a legend attached to this tower, which tells of a ghost called the White Lady who used to appear at the births and the deaths of the Lords of Hradec.
&nbsp&nbsp The Pilasters of the tower's arcade are typical of the new style then adopted from the Romance countries. Its construction continued under Jáchym of Hradec who was educated in Vienna. It was he who called on Antonio Ericer to undertake the remodelling of the castle. The renovations carried out in the style of the Italian Baldassare Maggi of Arogno, the master of the High Renaissance, were completed between 1584 and 1588. Antonio Ericer cooperated with G. M. Facconi in the building of the charming Renaissance roundel between 1591 and 1596. The Renaissance palace opens on to the courtyard through Italian-style arcades built by Antonio Melani. Jáchym's son Adam, under the influence of his wife Catherine of Montfort, caused the Jesuits to be summoned to the town and had a college built for them by Martin Vlach and Antonio da Sala.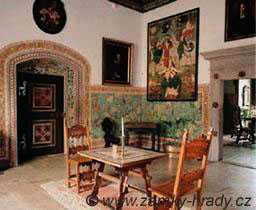 &nbsp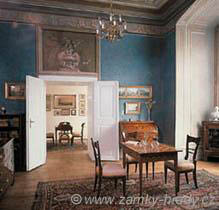 &nbsp&nbsp In 1596 the domain was inherited by the ailing last scion of the family, Oldřich of Hradec who bequeathed it to his sister, the wife of Vilém Slavata whose family retained the possession until 1694. The castle then came into the hands of the Černín family who resided there until 1945. Under the Slavata and Černín families the castle collections were enriched by the many valuable works of Czech Baroque artists such as Petr Brandl, Karel Škréta and others.
&nbsp&nbsp Alongside the enlarged castle the town, too, grew in size and importance. The 13th century Franciscan monastery as well as the church of St. John with its fine murals dating from the first half of the 14th century are a testimony to this fact. On the south side of the sanctuary there is a chapel of St. Nicholas built approximately in 1369. Vaulted on to a single pillar, this is one of the earliest buildings of its kind in Bohemia.