Horšovský Týn
---

Státní hrad a zámek Horšovský Týn, nám. Republiky 1, 346 01 Horšovský Týn
Tel. +420 379 423 111, e-mail: hz.htyn@arcom.cz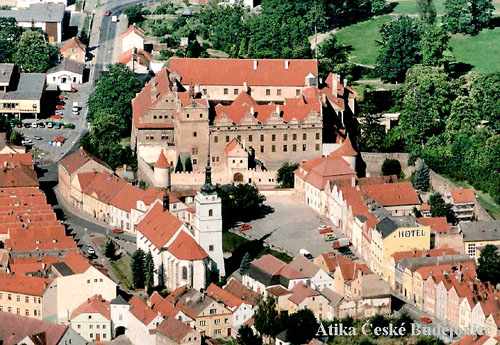 &nbsp&nbsp Upon the possession of Prague by the archbishop a castle originated with a residential palace, a lofty Holy Trinity chapel of high architectonic value and entrance gates on the east and west sides. The Prague archbishop Arnošt of Pardubice proceeded with the first rebuilding of the castle in the middle of the 14th century. The Renaissance style appeared between 1547 and 1560. At that time, the architect, Agostino Galli, in Jan jr. of Lobkovice's employ, built the bishop's palace, flattened the ground in the courtyard and, most significantly, built new castle buildings on the peripheral walls. A south wing with a peristyle was attached to them in the beginning of the 17th century. The architecture of the castle was still modified with restoration works according to designs of Czech architect Josef Schulz at the end of 19th century.
&nbsp&nbsp Over the entire Renaissance period a town of the same name developed together with the castle, whose square and adjacent streets are adorned with Renaissance and Baroque houses. Besides the town hall there is also an Archdeacon's palace and on the other side the St. Peter and Paul church with three Baroque altars.
&nbsp&nbsp Within the castle's interiors there is the outstanding Holy Trinity chapel with valuable Gothic architecture as well as a large Renaissance hall. The furnishings of other rooms include arms, paintings, carpets and a collection of chandeliers dating back to the 18th and 19th centuries.